Perfect ergonomics to be your ELITE auxiliary.
High-grade material, improved ergonomics and eccentric-elegant design, let ELITE series gaming chair stand out for gaming chairs. The special design of its backrest ensures it conforms to the natural curvature of the spine, helping distributing the weight of the user which will suit for individuals who have the highest expectations of themselves and their environments.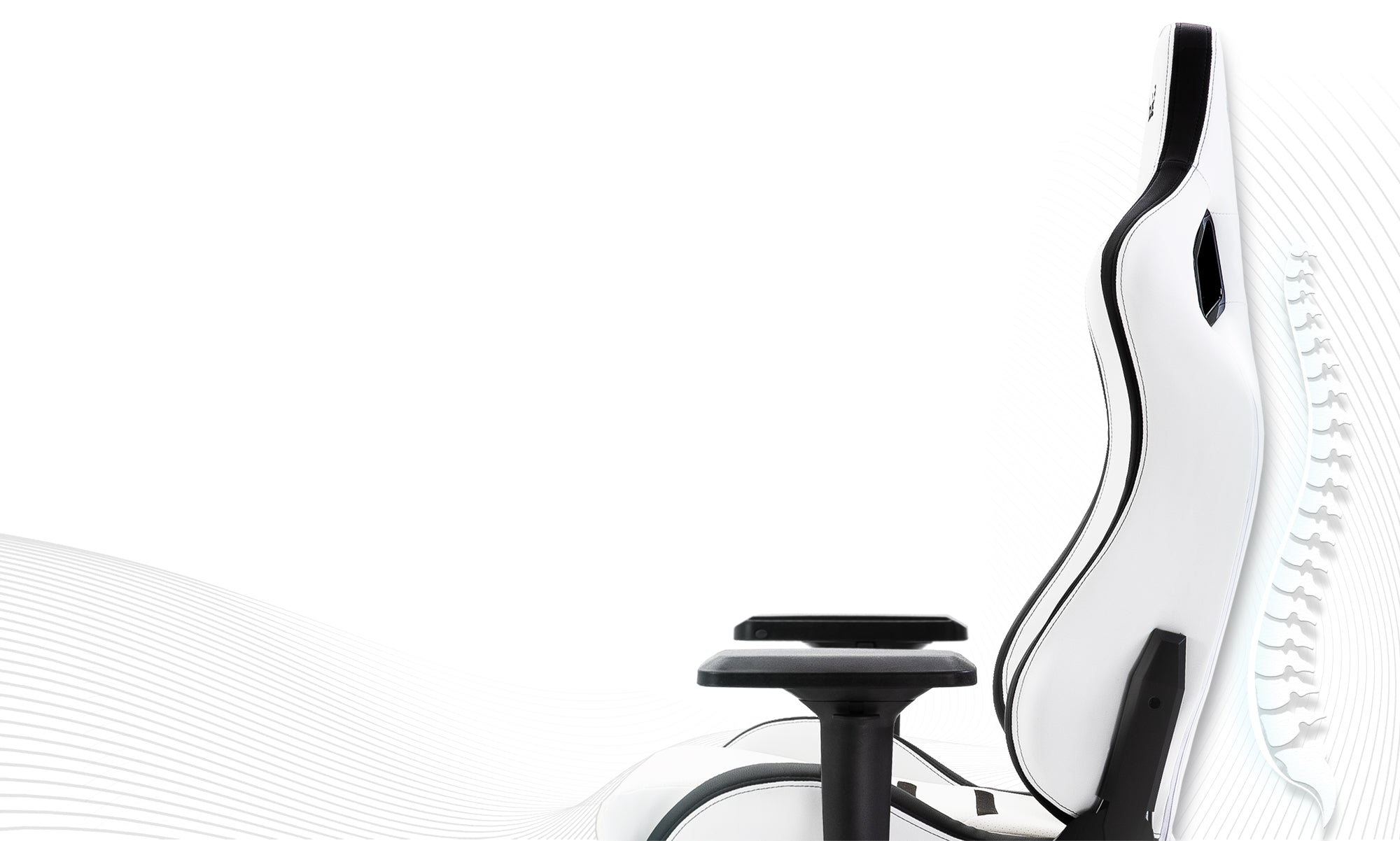 boulies Ultraflex PU
For perfect gaming chairs' leather, not only we need it durable, we pay attention on it comfortable, soft and smooth as well. After hundreds of tested, we made our signature boulies ultraflex PU leather with upholstery of sports cars - microfiber suede. To ensure the chair more breathable, we especially add the perforated leather design.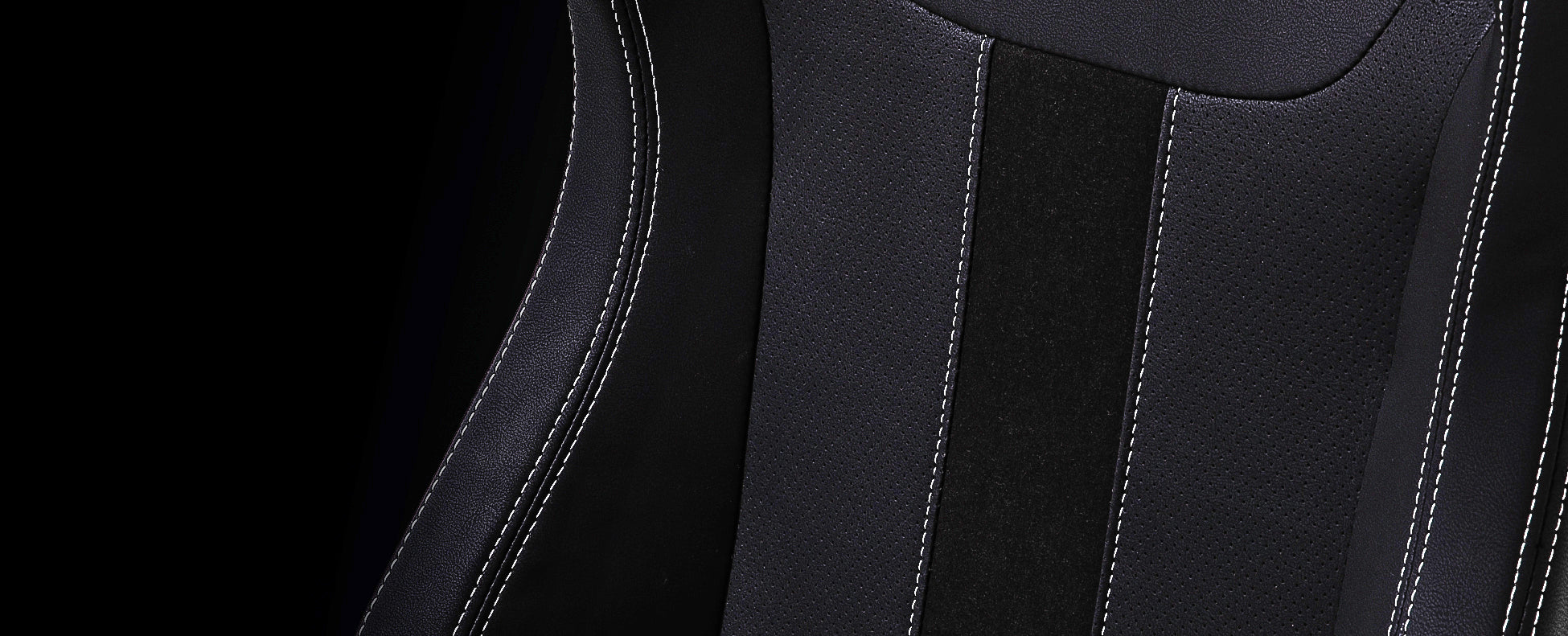 boulies W/R Fabric
With a special dyeing and finishing process, woven with high-strength fibers, boulies new signature fabric is more durable, strong and breathable. Furthermore, to prevent the outer layer of the fabric from becoming saturated with water/juice, we add a coating to fabrics to make the fabric become a water repellent fabric to give your room a stylish and refreshing area.


1. "W/R" for water repellent.
2. The hydrophobic effect will gradually disappear over time. The degree and speed of the disappearance are related to the method and intensity of use.
Designed to support the exact position you want.
With more than 6 adjustable functions, you can always find a more comfortable posture for gaming, or working.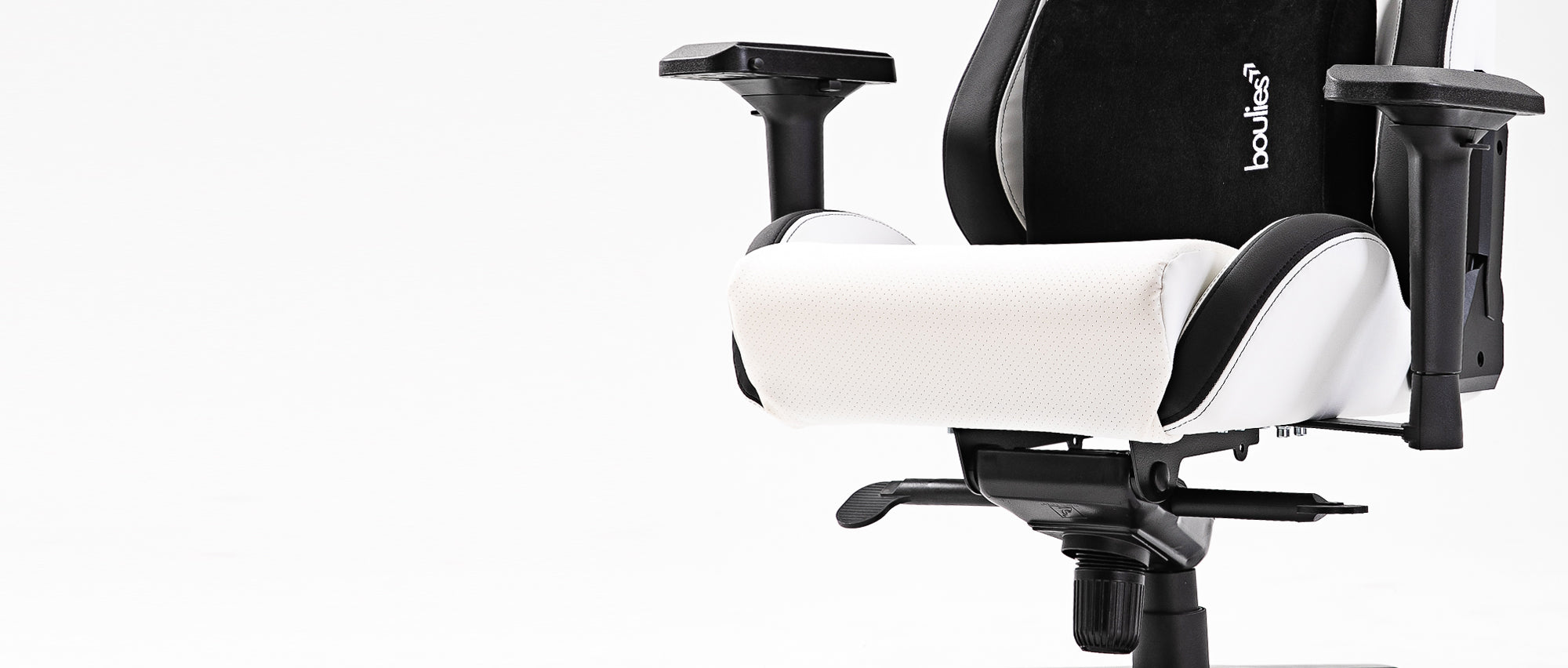 Special Designed Backrest
The elite series has special designed backrest. We made the backrest curve similar to the natural curvature of the human spine, so that standard body size person can rest comfortably on this chair without relying on a headrest or lumbar pillow. In order to adapt to people of different body shapes, a headrest pillow and a lumbar pillow will still be included in the package.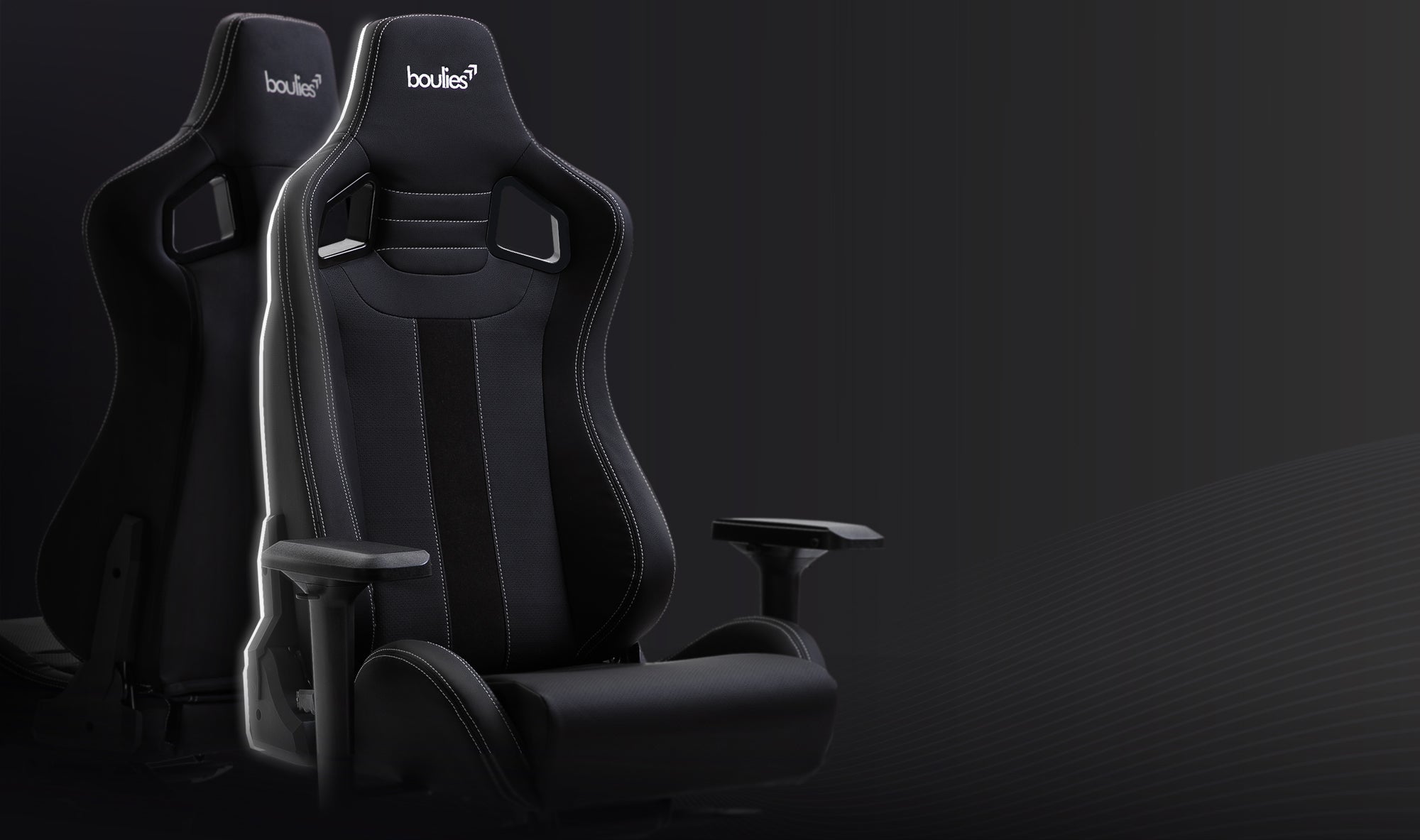 With full control of boulies multi-tilt mechanism, you can lock or unlock your position and sit at any angle you want.
8 ways adjustable support for your elbow and wrist to mitigate the risk of carpal tunnel.
Made to be durable yet wooden floor friendly, XL PU caster is so smooth that can be used on the clean wooden floor.
Upgraded with a premium metal to provide extremely stability and strength, each base is not only perfectly balanced but also strong bearing capacity.
The best class of the gas hydraulics for stability and safety, including safety certifications such as BIFMA(by SGS).
Product Dimensions
Recommended Height
170 - 192cm
5'7" - 6'4"
Max Weight
110kg
240lbs
A: Seat Height
47 - 55cm
18.5" - 21.7"
C: Backrest Height
85cm
33.5"
D: Arm Height
64 - 77cm
25.2" - 30.3"
F: Backrest Width
53cm
20.9"
Product Details
FUNCTIONS
360° swivel
Seat heaght adjuastable
Full-length backrest recline
15 degree rocking
Tilt position lock
Armrest 8 ways adjustable
SPECIFICATION
Upholstery
Boulies ultraflex leather (with partial perforated) + microfiber suede
Boulies W/R fabric + microfiber
Frame
Extra Strong Steel Frame
Five star foot base
Aluminum Base
Tilt mechanism
Multi tilt
Hydraulics
Class 4 (Top Class)
Customer Reviews
Media Reviews
They may all look the same but they are not the same!
Recently purchased the Boulies Elite and this literally arrived in a couple of days. I opted for Blue Fabric as my preference is it is more comfy during hot weather periods. Took no more than 30minutes to assemble. This is where you will notice the difference in build quality as the seat cushioning build is of a high standard compared to one I purchased a couple of years ago from Amazon. This brings me to the point about they chairs looking similar but I can tell you there is a huge differentiation in quality. So if you are wondering whether it is worth spending the extra money on a Boulies over something from Amazon, short answer yes!
Top chair
Great chair, super comfortable, although I would recommend the Elite chair for the larger persons.
Very comfy, great padding and very solid
I've been using an IKEA chair for several years now but since lockdown and sitting in it far more working from home I have really felt the lack of padding to the point my coccyx area has had persistent ache i.e. I've had butt ache. I've been researching a new chair for a while and Secret Lab seemed to fill my Facebook feed but I read reports about the padding not being great. I then found Boulies (thanks again to FB advertising) and people seemed to suggest better padding, and the price is better, so I took the plunge.
First off, delivery was far quicker than I expected. I think it took 2 days from ordering to arrive. The box is very heavy which made me think quality must be pretty good, and it is. The chair was very easy to put together and the quality feels very solid. Also, it is very comfortable and my butt is enjoying the great padding in the seat. Lots of adjustment and the fact it reclines back so far means I may do some research into the benefits of afternoon snoozes at my desk. Wheels are large and solid, makes me wish I'd put a wooden floor in my office now as I think they would be really good on there. I think I saw some reviews saying the arm rests are hard plastic but actually they have a bit of squidge to them so are nice and comfy and very adjustable.
Potential areas of improvement to make this lovely chair even better: These are all very minor things just to be able to give some feedback to the designers but none of these are reasons not to buy it. I think I would have liked the seat to be able to angle forward a tiny bit more on the horizontal for desk work to sit more upright. I would like the arm rests to be able come in a bit narrower for typing comfort. Also the up and down hydraulic adjustment could be a bit smoother but you don't need to use it often once you have it in position so no big deal. Then for the recline I would have liked a finer adjustment. It is based on notches and I find I always want it somewhere between 2 notches with these types versus the ones where you have a constant adjustment (like in electric car seats of where you have a wheel to adjust it). Again, not a big deal, just potential areas of fine tuning to make it even better.
All in all this seems like a great chair, very good quality and very comfortable at a reasonable price (compared to others that look similar). I think the pricing is just right as some others are too much to take a punt on something you can't test beforehand.
Excellent chair for every day use
I had needed a new office chair for a log time. I researched gaming chairs that could bare a heavier load for awhile and finally landed on this item. I wanted a gaming chair because they seemed to have more options in design and support than standard office chairs. The reason I ended up picking this chair over the other ones on my list was the adjustable arm rests.
I am using the chair in my home office, not in front of the TV for gaming. It was easy enough to assemble, you just need to pay close attention to which bolts you are using in which part of the chair. Everything in the instructions is clearly labeled and well done, it was my own fault for not using the correct ones in the correct location at first.
The chair itself is very comfortable and sturdy. It has good lumbar support with the extra cushion or without. I stopped using the cushion after a couple of days to see which I prefer but have not made a final determination. Both ways are comfortable and better than my old chair.
The adjustments that can be made to the height, arm rests, and back position are all easy to do and feel strong. The parts don't feel cheap or anything like that.
Over all I am very happy with the chair and so are my knees, back and behind. Pretty good for a chair I was not able to sit in before purchasing.
Lovely chair well made and so comfortable ! And only two days from order to delivery excellent all round service thank you !